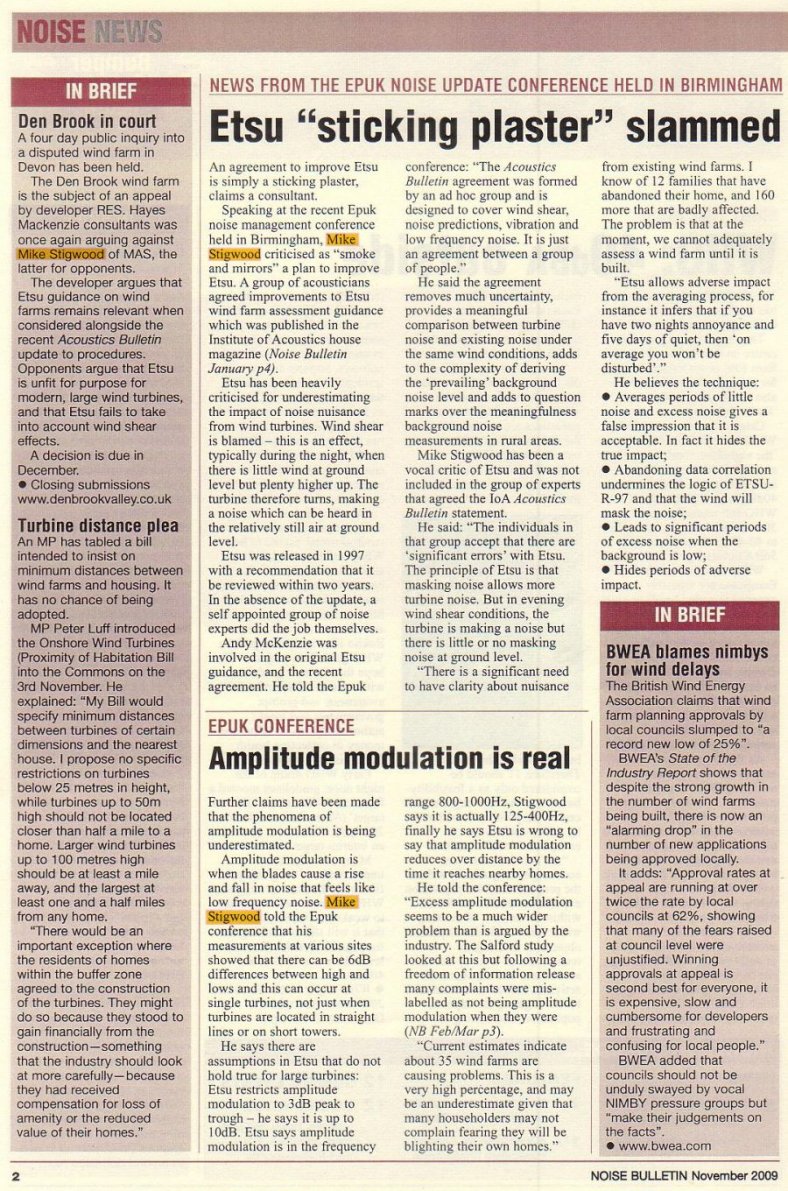 IN BRIEF
Den Brook in court

A four day public inquiry into a disputed wind farm in Devon has been held.

The Den Brook wind farm is the subject of an appeal by developer RES. Hayes Mackenzie consultants was once again arguing against Mike Stigwood of MAS, the latter for opponents.

The developer argues that Etsu guidance on wind farms remains relevant when considered alongside the recent Acoustics Bulletin update to procedures. Opponents argue that Etsu is unfit for purpose for modern, large wind turbines, and that Etsu fails to take into account wind shear effects.

A decision is due in December.

Closing submissions www.denbrookvalley.co.uk


Turbine distance plea

An MP has tabled a bill intended to insist on minimum distances between wind farms and housing. It has no chance of being adopted.

MP Peter Luff introduced the Onshore Wind Turbines (Proximity of Habitation Bill into the Commons on the 3rd November. He explained: "My Bill would specify minimum distances between turbines of certain dimensions and the nearest house. I propose no specific restrictions on turbines below 25 metres in height, while turbines up to 50m high should not be located closer than half a mile to a home. Larger wind turbines up to 100 metres high should be at least a mile away, and the largest at least one and a half miles from any home.

"There would be an important exception where the residents of homes within the buffer zone agreed to the construction of the turbines. They might do so because they stood to gain financially from the construction -something that the industry should look at more carefully-because they had received compensation for loss of amenity or the reduced value of their homes."


NEWS FROM THE EPUK NOISE UPDATE CONFERENCE HELD IN BIRMINGHAM
Etsu "sticking plaster" slammed

An agreement to improve Etsu is simply a sticking plaster, claims a consultant.

Speaking at the recent Epuk noise management conference held in Birmingham, Mike Stigwood criticised as "smoke and mirrors" a plan to improve Etsu. A group of acousticians agreed improvements to Etsu wind farm assessment guidance which was published in the Institute of Acoustics house magazine (Noise Bulletin January p4).

Etsu has been heavily criticised for underestimating the impact of noise nuisance from wind turbines. Wind shear is blamed - this is an effect, typically during the night, when there is little wind at ground level but plenty higher up. The turbine therefore turns, making a noise which can be heard in the relatively still air at ground level.

Etsu was released in 1997 with a recommendation that it be reviewed within two years. In the absence of the update, a self appointed group of noise experts did the job themselves.

Andy McKenzie was involved in the original Etsu guidance, and the recent agreement. He told the Epuk conference: "The Acoustics Bulletin agreement was formed by an ad hoc group and is designed to cover wind shear, noise predictions, vibration and low frequency noise. It is just an agreement between a group of people."

He said the agreement removes much uncertainty, provides a meaningful comparison between turbine noise and existing noise under the same wind conditions, adds to the complexity of deriving the 'prevailing' background noise level and adds to question marks over the meaningfulness background noise measurements in rural areas.

Mike Stigwood has been a vocal critic of Etsu and was not included in the group of experts that agreed the IoA Acoustics Bulletin statement.

He said: "The individuals in that group accept that there are `significant errors' with Etsu. The principle of Etsu is that masking noise allows more turbine noise. But in evening wind shear conditions, the turbine is making a noise but there is little or no masking noise at ground level.

"There is a significant need to have clarity about nuisance from existing wind farms. I know of 12 families that have abandoned their home, and 160 more that are badly affected. The problem is that at the moment, we cannot adequately assess a wind farm until it is built.

"Etsu allows adverse impact from the averaging process, for instance it infers that if you have two nights annoyance and five days of quiet, then 'on average you won't be disturbed'."

He believes the technique:


Averages periods of little noise and excess noise gives a false impression that it is acceptable. In fact it hides the true impact;
Abandoning data correlation undermines the logic of ETSU-R-97 and that the wind will mask the noise;
Leads to significant periods of excess noise when the background is low;
Hides periods of adverse impact.
EPUK CONFERENCE
Amplitude modulation is real

Further claims have been made that the phenomena of amplitude modulation is being underestimated.

Amplitude modulation is when the blades cause a rise and fall in noise that feels like low frequency noise. Mike Stigwood told the Epuk conference that his measurements at various sites showed that there can be 6dB differences between high and lows and this can occur at single turbines, not just when turbines are located in straight lines or on short towers.

He says there are assumptions in Etsu that do not hold true for large turbines: Etsu restricts amplitude modulation to 3dB peak to trough - he says it is up to 10dB. Etsu says amplitude modulation is in the frequency range 800-1000Hz, Stigwood says it is actually 125-400Hz, finally he says Etsu is wrong to say that amplitude modulation reduces over distance by the time it reaches nearby homes.

He told the conference: "Excess amplitude modulation seems to be a much wider problem than is argued by the industry. The Salford study looked at this but following a freedom of information release many complaints were mis-labelled as not being amplitude modulation when they were (NB Feb/Mar p3).

"Current estimates indicate about 35 wind farms are causing problems. This is a very high percentage, and may be an underestimate given that many householders may not complain fearing they will be blighting their own homes."


IN BRIEF
BWEA blames nimbys for wind delays

The British Wind Energy Association claims that wind farm planning approvals by local councils slumped to "a record new low of 25%".

BWEA's State of the Industry Report shows that despite the strong growth in the number of wind farms being built, there is now an "alarming drop" in the number of new applications being approved locally.

It adds: "Approval rates at appeal are running at over twice the rate by local councils at 62%, showing that many of the fears raised at council level were unjustified. Winning approvals at appeal is second best for everyone, it is expensive, slow and cumbersome for developers and frustrating and confusing for local people." BWEA added that councils should not be unduly swayed by vocal NIMBY pressure groups but "make their judgements on the facts".


---
www.bwea.com
NOISE BULLETIN November 2009