MAS can offer a wealth of information on the assessment and issues of noise from wind farms and wind turbines, drawing on skills gained from an Environmental Health background, years of experience in private consultancy, expert witness work, review of planning applications and measurement in the field.
This one day seminar aims to critically address and analyse the current issues surrounding the planning conditions and specifications for wind farms required by the government. The seminar content ranges from the basic understanding of characteristics and environmental impact assessment of small, medium and large wind turbines to a more in depth discussion of mathematical, meteorological and acoustical affects on noise from wind development. Recent research on acoustical problems, such as amplitude modulation (AM) and wind shear will also be addressed. The seminar includes the opportunity for open discussion of delegates experience in wind farm / wind turbine assessment and all delegates are provided with a pack of detailed notes.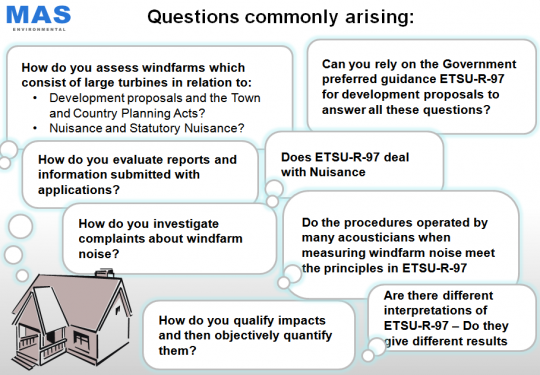 More information can be found in our Training pages.  If you would like to attend this course or enquire about us providing an in house course please contact us for more details.